Country Series
Italy
This is the second publication in our country series. Our intention is to share with you in one page our relation with the pertinent country.
Our relationship with Italy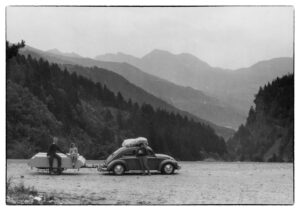 Yvonne visited Italy from her early childhood. From the age of ten she went on summer vacation to Italy, with the Volkswagen Beetle and an Alpine cruiser made by her father, camping with the family at Lago di Levico.
I'd never been to Italy until 1991. In 1991 we went together and camped in Tuscany, we visited Siena, Florence and also made a day trip by train to Rome. In late autumn 1992 we went to Venice for a week. We camped at Ponte Sabbione and every morning we went by early boat to Venice and in the evening with the last boat back again, often with beautiful evening light. It was magical.
We could not have predicted then that years later we would  live and work in Italy. In 1993 we moved from Athens to Palazzago, a village at the foot of the Alps, about 12 km from Bergamo. Adriaan worked in Milan. We lived in an old hilltop villa in the small community of Salvano. We lived there for more than eight years in 1993-1999 and 2010-2012. It is a fantastic experience to live in another country, make friends, discover Italian culture and Italian cuisine. The nature is just beautiful and the climate is pleasant.
In the years that we lived there but also afterwards we have seen a lot of Italy. We have been back to Venice several times. We have spent holidays in Sicily and Sardinia. But also in southern Italy, in Puglia and Basalicata and central Italy, in Umbria, in northern Italy in Valle d'Aosta. The beautiful old town of Bergamo was "our" city, where we did our shopping, went out for lunch or dinner or strolled through the city. On weekends but also during the holidays we went into nature with our dogs. To Lago di Como, Passo San Marco, Passo dello Spluga, Valle San Martino, Adda River, Valle Imagna, Val Taleggio. All these places were not too far away from our home in Salvano. In 2014 we made a city trip to Rome. We lived in Lecce for two months in 2015 and explored Salento.
Italy is deep in our hearts!
Here below we have links to our Italian  photo galleries, that we have published on SmugMug. By clicking on the photos you will be directed to pertinent gallery on SmugMug. 
A short overview of the photo galleries, that we have published:
Primavero in Salento
Venerdi Santo, Lecce
Città della Toscane
Il Giro di Sicilia
Palermo, Conca d'Oro
Il mondo motociclistico
Saline e salinai
Laguna Veneto
Rome, the eternal city
Return to Italy
Cinquecento
The old cemetery of Bagolino
In our blog we have published the following posts:
Memories from our mountain

Copyright 2023, Fotografia.