Story "The Westergren family"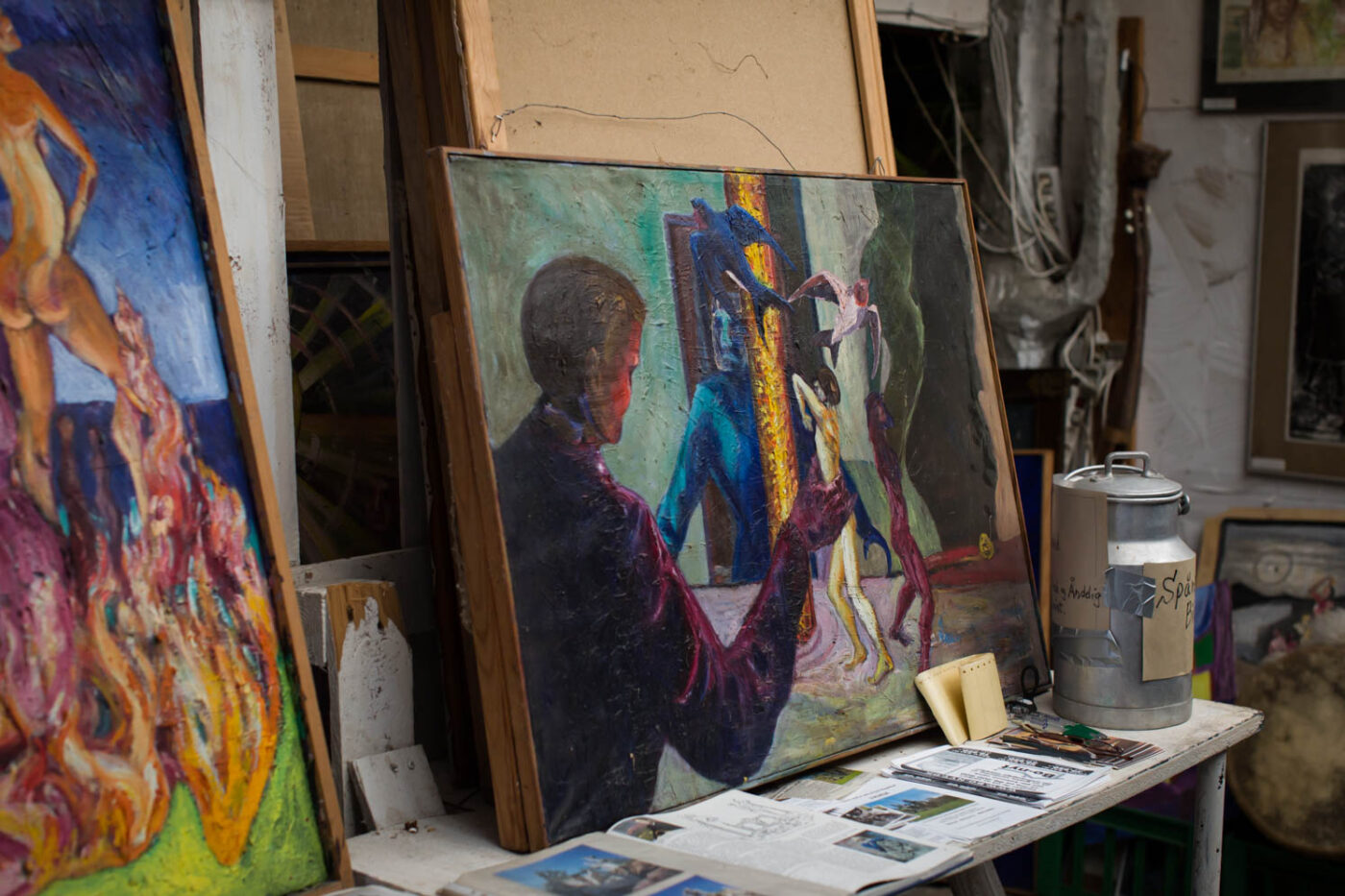 Art in Denmark – The Westergren Family
On our latest journey in Denmark we suddenly came across a group of sculptures on a hill. It was raining, but the sculptures intrigued us, and I started to make some photos. An elderly man, standing next to the sculptures, invited us to come on the hill and see the sculptures more closely. The man did not speak English, but we understood that his father, Edwin Westergren, made the sculptures and some paintings and that this man was his son, Erik Westergren. Erik was a very friendly man and he tried to tell us that his father was a great artist and that he was repairing and finishing his fathers work and that Erik himself was also a painter and musician. Erik invited us to a small museum that he made of his father's and his own work and showed us around. He was very proud. I very much liked the sculptures, but also the paintings and other artefacts, in particular the colours. I asked him if I was ok to make photos and I believe that he very much liked that we were so interested. From the brochures we bought and later from the internet we found out more about the family Westergren, although what is available in English is very limited.
Edwin Westergren(1921-1992) was a sculptor, painter, poet and philosopher, who lived and worked and ran an arts centre in a former dairy in a Danish village called Østby ("East Village"). He was born in Sweden, and according to local lore he arrived in Denmark as a lost-property foundling in a suitcase. After his death, his concrete sculptures, many of them unfinished, some of them very large, were left to the finishing touches of Mother Nature. The largest group, allegedly called "Will to Life", is still standing on its hilltop: a wild, heroic landmark, gradually merging with the landscape. One son, Erik, also goes around to kindergartens with his soulmate (his words), spreading the joy of native American music to children. On Erics website (please click) you will find photos and also a movie where Erik is playing with his friends for the children. We found it great to meet a person like Eric and learn about his family's history and see the artistic work of the family. We have made a short photo series in the Westergren museum and here below please find some photo's. The full series can be seen on SmugMug (please click).
vdbos_fotografia
June 16, 2019

Copyright 2023, Fotografia.